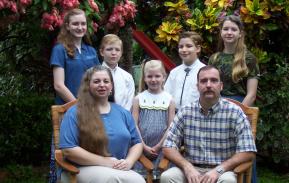 The James Mantonya Family.
James M. IV July 17
Lisa K. Feb. 8
Wedding anniversary: Mar. 2, 1990
Approval date: May 1998
Emily Joy Nov. 5, 1991
Katherine Rose Feb. 15, 1993
James M.V Nov. 1, 1994
Jesse Tyler March 11, 1996
Beatrice Hope May 6, 1999
Introduction letters
My name is James Mantonya; I am a second-generation missionary to the Amazon interior. I was saved on the field under my father's ministry, and served in the youth department, and helped build and organize churches all across the state of Rondonia. I met my wife Lisa at Baptist Bible College, got married, and joined South Side Baptist Church in Springfield, MO. She was saved at the age of ten during a revival with Evangelist Bud Hunter. We surrendered to go the field and were sent out of South Side, and we are using the Baptist Bible Fellowship as our mission board. We were approved in 1998, and went to the field in August of 2000. We have been on the field as missionaries for seven years now. We have started six works with national pastors in the past years, helped reorganize the Bible institute, started the mobile Bible institute, and we are in charge of the youth camp. Our plans for the next four years are to use the preacher boys in the Bible institute to start five new works. There are five families that came to us, asking us to start a work in their area. They are willing to give of their time to build the buildings, and one family even donated the land to build on.
We are home on furlough trying to raise the work fund needed to do the work that God has called us to. What the James Mantonya family is asking you to do is to consider us as representatives of your church in the Amazon. If you would like us to bring the Amazon to you and your people, we would love to come and do so.
You can contact us at amazonroadrunner@juno.com
Thank you for your interest,
Souls for Christ in the Amazon
James, Lisa and kids
We are missionaries in Porto Velho, RO. Brazil. I, James am a second-generation missionary, raised in Porto Velho. My folks and I arrived for the first time in 1973, and I was 7 years of age. God has greatly used the ministry of Hank and Nancy Mantonya these 30 some odd years.
We arrived in Porto Velho for the first time as a family Aug. 18, 2000. While Lisa was learning the language; I started teaching in the Bible Institute. We were involved in starting 6 new works, where today they have their own Preacher boy.
The Bible institute has expanded and we now have a mobile Bible institute where we go into the interior towns to teach the people that cannot come to Porto Velho to study.
Our goals
Missionary project for Rondonia, Acre and Amazonas
GOAL: Raise additional support to plant churches in Northern Rondonia and Southern Amazon, and Acre.
1. Raise funds,
2. Go to the areas in need,
3. Purchase a boat and motor to reach the river dwellers on the Mucuim,
4. Challenge our supporting churches to hold the ropes (not too tightly) and help start churches. I Sam. 30:24.
Is. 6:8 "Also I heard the Lord, saying, whom shall I send, and who will go for us? Then I said, here am I; send me." It has been 2007 years that this question has been echoing, God's appeal grows louder each day that passes, and we need to answer His call. Who is willing to go to the fields white unto harvest? Who is willing to let go and go? Who is willing to hold the ropes so we can go? II Cor. 5: 14 " For the love of Christ constraineth us;" Christ's love should constrain me to the point where I can't keep quiet. I believe in Jesus' promises, and I know He wants to use you to help us.
WHERE: Northern Rondonia and Southern Amazon, and Acre.
How do you get there? 3 miles after crossing the Rio Madeira river in Porto Velho, turn left at the gravel pit, the range line is called Jaturana, go 30 miles to Project Morrinho and Joana D'arc I, II, and III. From there go 60 miles and you will end up in a small community of about 12,000 souls.
This community has been there since 1990, and only since 1998 has there been any religious influence.
If you go back to mile marker #39 to the Mucuim River, there is a small community of 3000 souls, some of them are saved, and want a church to worship the Lord.
In April of 2002, we started a congregation at mile marker #42. 17 people have received Christ as Savior. We have started another preaching point another 10 miles from this one, the property owner, Mr. Eliseu, never permitted any religious person to stop there, but, because of our testimony in the area, he received Christ as Savior. He now wants a church there. Where the Pentecostals and other beliefs failed, we, through the grace of God, have succeeded.
WILL YOU HELP US?